.
Christmas with Michael Owen
13th December 2019 – 7:00pm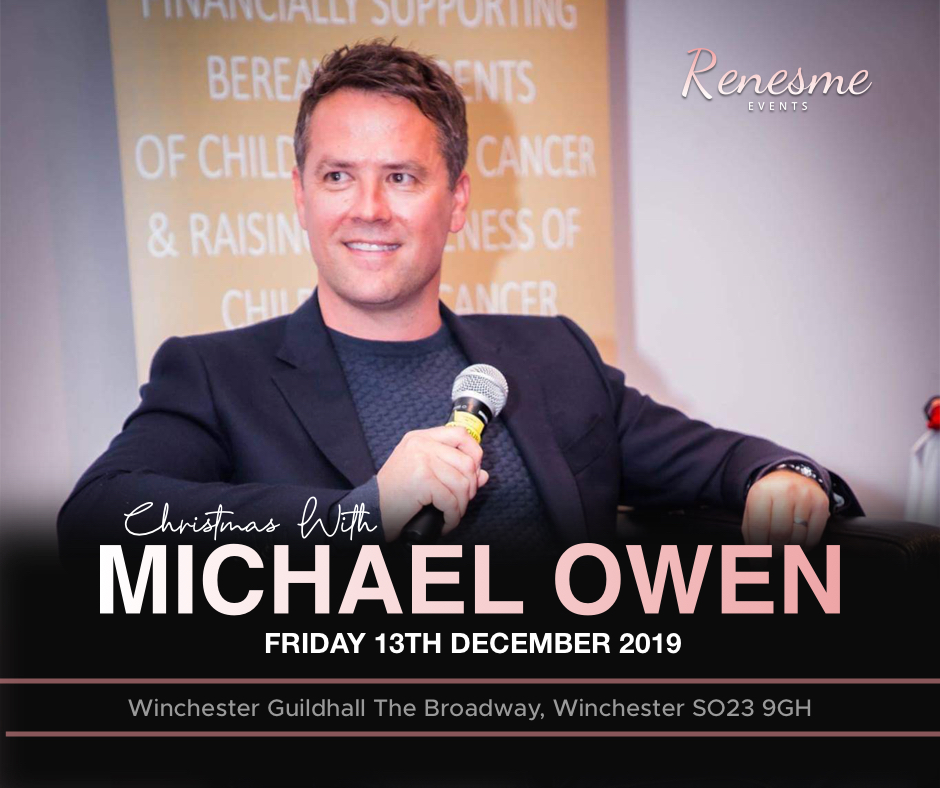 Renesme Events are delighted to announce Christmas with Michael Owen event on the 13th of December 2019 at the prestigious Guildhall Winchester  where they will be fundraising for a local charity chosen by way of raffle on the evening
Within football circles, Michael Owen will always be regarded as one of the greatest strikers to have represented England and they are bringing you the opportunity to meet the legend in person combined with their bespoke Christmas party evening
There are 3 different packages available to ensure football fans have every opportunity to enjoy this event.
Tickets are on sale now, giving you the opportunity to surprise your loved ones, book your Christmas party with a twist or just meet Michael, just in time for Christmas.
Contact details below to discuss group booking and corporate offers.
*Front Row Priority Seating
*Exclusive Meet and Greet prior to the show
*Canapes
*Photo with Michael Owen
*Signed Photo of you and Michael Owen
*Live Questions and Answers from the audience
*Participation in the Auction
*Participation in the Raffle
*Photo with Michael Owen
*Live Interview
*Live Questions and Answers from the audience
*Participation in the Auction
*Participation in the Raffle
*God Floor Sitting (Second Floor)
*Live Interview
*Live Questions and Answers from the audience
*Participation in the Auction
*Participation in the Raffle
There are limited tickets available so book early to avoid disappointment. For corporate booking and sponsorship please email either info@renesmeevents.com or email@poria.me