.
Hampshire Coffee Festival
12th October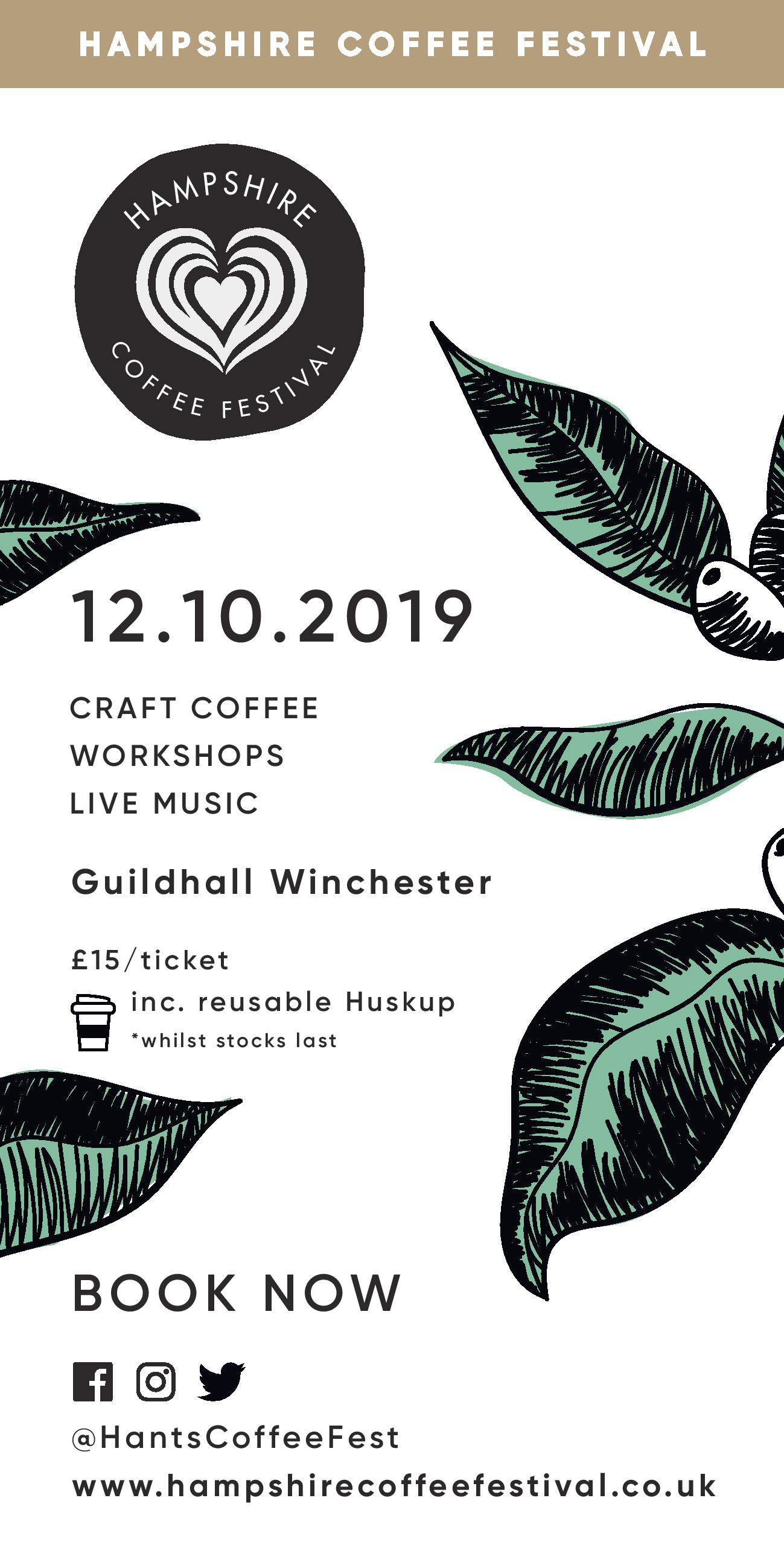 Welcome to the Hampshire Coffee Festival!
Join us on Saturday 12 October to celebrate all that's best about the region's blossoming café culture. We're hosting three sessions at the Guildhall Winchester so you can choose a time and theme to suit your taste!
11am-1pm Brunch Session
Tastings ~ Workshops ~ Masterclasses
2pm-5pm Afternoon Session
Tastings ~ Workshops ~ Masterclasses
7pm-10pm Evening Session (decaf will be available!)
Tastings ~ Workshops ~ Live Music ~ Latte Art Competitions
What can I do when I'm there?
We're currently inviting businesses with a love of coffee and cafe culture to come along and share their products with you. There'll naturally be coffee to try but also coffee liqueurs, tea and sweet treats that you'd expect to find in cafés across the county.
You'll have opportunities to taste different coffees as well as have a go at some latte art. Release your inner barista!
In the Training Zone, hosted by Winchester Coffee School, you'll be able to learn more about the story behind coffee and different aspects of the industry. You can also learn practical skills – perfect for the coffee enthusiasts out there!
Cabinet Rooms ~ Winchester Coffee School ~ Winchester Coffee Roasters ~ Origin Coffee ~ Conker Spirits ~ Gorilla Spirits ~ Birchall Tea and more
Childcare
Toast and Tea, a local registered Ofsted provider, will be offering childcare on site.
Drop off your little ones for an hour or more and enjoy the amazing exhibitors, workshops and masterclasses 'hands free'.
£6 per hour. Start times: 11am, Midday, 2pm, 3pm or 4pm
No need to book in advance, just turn up and book your slot on the day.
The full line-up will be released in the Summer. Until then follow us on social media for all the latest @hantscoffeefest!