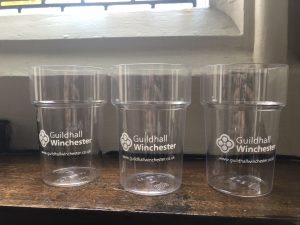 What's happening?
As part of our increased commitment to use less disposable plastic at our venue, we will be using reusable plastic glasses at the sold out Martin Kemp DJ Night. We will be asking customers to pay a deposit for each cup, which they can then use for the duration of the event. The deposit will be refundable upon return of the cup at the bar.
Why is Guildhall Winchester doing this?
Plastic ending up in our oceans has been a big issue that has gained more exposure over the past few years. We now only use paper straws as part of the Final Straw Winchester campaign, and we estimate that by introducing reusable cups we can save the use of up to 2000 disposable plastic cups per event we hold. As a large venue we really believe it is important to reduce the impact we have on our environment.
What does this mean for you?
When you first visit to the bar we will do the following:
Add £1 onto your bar bill for every drink purchased that requires a cup – don't worry you will be able to get this back!
Serve your drink in a reusable cup that you will be able to use for the rest of the evening
You will then be able to keep the cup after the event, or simply head back to the bar or one of the dedicated stations upon exit and we will give you £1 back in cash for your cup